Weekend Masses are celebrated on Saturdays at 4:00 pm and Sundays at 10:00 am.
We are blessed to offer Mass at Shepherd of the Hills in the following ways:
If you feel comfortable, you may attend inside Church following social distancing and mask mandate rules.
You may also tune in to Mass on 88.3 FM radio and listen from your car. To receive communion from your vehicle, you can drive through the carport or walk up to the Church doors.
Offertory baskets are located inside the lobby and outside the main entrance. Please place your offering in the baskets before Mass starts.
If you would like confession, please contact Fr. Mark at (262) 752-7646.
The church must be fully disinfected after Mass, so if you are willing to help with this, please call the Parish Office at (920) 477-3201.
Lead the Rosary Before Mass
Are you interested in leading the Rosary before Mass? If so, please provide your name and contact information in the sign up below. Rosary begins AT LEAST 20 MINUTES PRIOR to the start of Mass.
Mass Times
Regular Mass Schedule

Saturday - 4:00 pm (Indoors)
Sundays - 10:00 am (Indoors & Outdoors)
Monday - No Mass
Tuesday - No Mass
Wednesday - 8:30 am
Thursday - No Mass
Friday - 8:30 am

Adoration of the Blessed Sacrament
Every Wednesday 9:00 am - Noon
First Fridays 9:00 am - Noon

Reconciliation
Saturdays from 3:00 - 3:40 pm

Rosary (School Student Led)
First Fridays 11:00 - 11:30 am

Signing for the Deaf and Hard of Hearing
1st & 3rd Sundays at 8:15 am

Hearing Assistance System
Shepherd of the Hills is equipped with a hearing assistance system. Please ask for a receiver.

Persons with disabilities are invited to sit in the front pews to receive Holy Communion without leaving the pew.
Office Hours
Monday - Thursday 6:30 am - 4:00 pm
Closed Friday

Items for the Parish Office may be dropped off in the School Office on Fridays during the school year.
Founding Churches of Shepherd of the Hills
In January 2001, these founding churches merged to become the Congregation of the Good Shepherd.
---
2021 - VIRTUAL - Dinner Auction
Join us VIRTUALLY for our 16th Annual Dinner Auction Fundraiser
Online Saturday, February 13 through Saturday, February 20, 2021
Auction Items, Classroom Projects, FUNDA, Carry Out Dinner
Bidding on Auction Items & FUNDA opens Satruday, February 13 at NOON
Bidding on Classroom Projects opens Thursday, February 18 at 5:00 pm
The Entire Auction Closes on Saturday, February 20 at 8:00 pm
Donations of new items, gift baskets, certificates, and services are appreciated by February 1.
Monetary donations can be made by check or online at bidpal.net/sothstircrazy
Sponsor Levels:
Martini - $1000 or more
Old Fashioned - $500 - $999
Bloody Mary - $250 - $499
Iced Tea - $100 - $249
Lemonade - Up to $99
---
Delicious Beef Tip Carry Out Dinner prepared by Boda's - $20 each
​Dinner Order Deadline: Friday, February 12, 2021
Dinner Pick Up: Saturday, February 20, 2021 from 3:30 to 5:00 pm at School Door E (Playground)
---
For dinner reservations please contact Andrea Hansen Abler at 920-979-2005 or [email protected].
For donation information please contact Lauren Laughrin at 262-689-2313 or [email protected]
Walking with Purpose Bible Study
Catholic Stewardship Appeal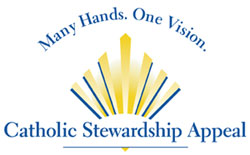 The Catholic Stewardship Appeal offers a unique opportunity to support Catholic life throughout the ten-county Archdiocese of Milwaukee with a single gift—a gift that helps sustain a broad spectrum of life-changing ministries and programs that meaningfully impact people's lives.
Contributions to the annual $8.1 million Catholic Stewardship Appeal are restricted for use in four key areas of ministry: serving families, strengthening parishes, supporting schools, and forming priests and parish leaders.
Staff
Pastor

Principal

Senior Priest in Residence

Senior Priest in Residence

Director of Religious Education

Maintenance/Buildings & Grounds

Business Manager

School Secretary

Youth Minister