Mass Times
Regular Mass Schedule

Saturday - 4:00 pm (Indoors)
Sundays - 10:00 am (Indoors & Outdoors)
Monday - No Mass
Tuesday - No Mass
Wednesday - 8:30 am
Thursday - No Mass
Friday - 8:30 am

Adoration of the Blessed Sacrament
Every Wednesday 9:00 am - Noon
First Fridays 9:00 am - Noon

Reconciliation
Saturdays from 3:00 - 3:40 pm

Rosary (School Student Led)
First Fridays 11:00 - 11:30 am

Signing for the Deaf and Hard of Hearing
1st & 3rd Sundays at 8:15 am

Hearing Assistance System
Shepherd of the Hills is equipped with a hearing assistance system. Please ask for a receiver.

Persons with disabilities are invited to sit in the front pews to receive Holy Communion without leaving the pew.
Order of Worship
RCIA Mass Sat Aug 15th
Per the Archdiocese, those who were to have received full reception into the Catholic Church at the Easter Vigil now have a rescheduled date for their Sacraments. RCIA candidates ready for full reception will celebrate their sacraments during the 4pm Mass on Saturday, August 15th at Shepherd of the Hills. Candidates will have their pews marked for them.
Candidates:
Sarah Dins
Jane Lange
Office Hours
Monday - Thursday 6:30 am - 4:00 pm
Closed Friday

Items for the Parish Office may be dropped off in the School Office on Fridays during the school year.
Letter from Fr. Mark
Greetings and God's Blessings,
Beginning August 1, weekend Mass will be celebrated on Saturdays at 4:00 pm (Indoor Only) and on Sundays at 10:00 am (Indoor and Outdoor). Inside the church Sanctuary, 25% capacity (100 people) is offered. This is on a first-come, first-served basis. The church must be fully disinfected after Mass, so if you are willing to help with this, please call the Parish Office at (920) 477-3201.
Outside seating is available using personal lawn chairs and blankets, following the six-feet social distancing guidelines for non-family members. Loudspeakers have been added at the main entrance outdoors. Eucharist is also provided outside.
For those wishing to further isolate from others, FM 88.3 – a limited distance radio frequency – is broadcasting Mass. Use the Parish parking lot from the safety and convenience of your cars.
Options for Eucharist: Either join others in line (6 feet distance); or those handicapped may drive to the carport where Eucharist will be offered.
Offertory baskets are located inside the lobby and outside the main entrance. Please place your offering in the baskets before Mass starts.
I know attending Mass is one of our most important practices for our faith but -- at this time -- we need to move forward with extreme caution. Please remember: the danger of Covid-19 is not over. Extreme caution must be followed. I ask for your continued cooperation during this transition.
Thank you and God's Blessings.
If you would like confession, please contact me at (262) 752-7646.
Reasons to Register for School in 20-21
Walking with Purpose Bible Study
This fall WWP will be offered with an option to choose whether you would like to join either in person at SOTH OR join via zoom for those who would feel more comfortable with that option.
Please fill out the registration form below and take/send it to the parish office or drop it in the collection basket at church.
Catholic Stewardship Appeal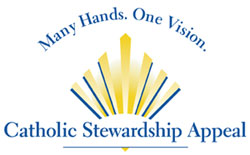 The Catholic Stewardship Appeal offers a unique opportunity to support Catholic life throughout the ten-county Archdiocese of Milwaukee with a single gift—a gift that helps sustain a broad spectrum of life-changing ministries and programs that meaningfully impact people's lives.
Contributions to the annual $8.1 million Catholic Stewardship Appeal are restricted for use in four key areas of ministry: serving families, strengthening parishes, supporting schools, and forming priests and parish leaders.
Staff
Pastor

Principal

Senior Priest in Residence

Senior Priest in Residence

Director of Religious Education

Maintenance/Buildings & Grounds

Business Manager

School Secretary

Youth Minister